SHAMPOO&CONDITIONER
KAMINOMOTO MEDICATED SHAMPOO B&P
Revive your hair. . . . Scalp and hair root care for the healthy hair growth !!
Hair Shampoo for men and women.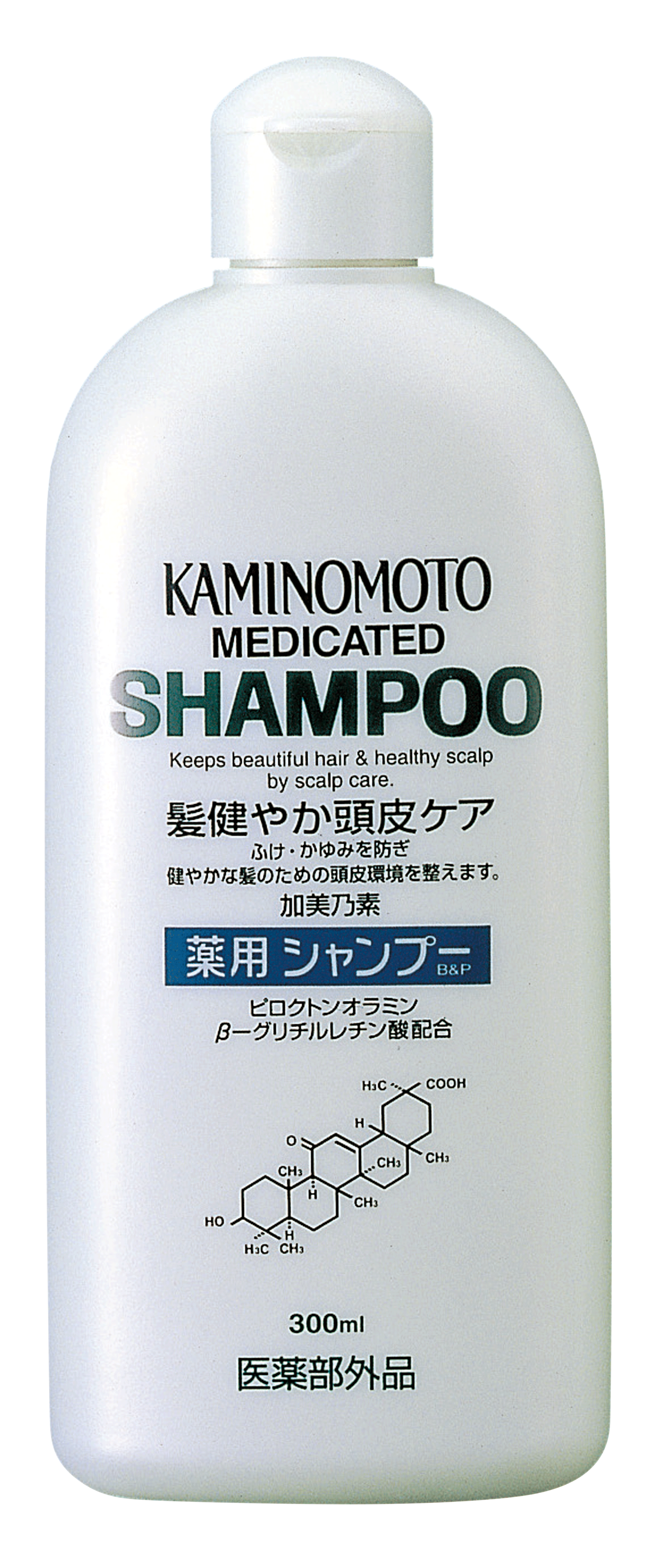 KAMINOMOTO MEDICATED
SHAMPOO B&P
300ml
Effective medical acidic shampoo against dandruff and itch. For those who are using a Kaminomoto hair lotion. It keeps hair and scalp healthy and clean.
Makes scalp clean by germicidal power. Pre-care Shampoo for arranging pores environment of scalp.
<Directions for use>
1, Wash hair with warm water.
2, Take a proper quantity of the shampoo on your palm, froth it and shampoo your hair and scalp with the foam.
3, Shampoo like massage scalp with fingertips.
4, Wash it out with adequate amount of water. It is the important point.
When you use a lot of shampoo, it orvertakes seubm and may be the origin of dry scalp or dandruff. Use proper quantity of shampoo.
Ingredients
INCI
Functions
β-Glycyrrhetinic Acid
GLYCYRRHETINIC ACID
Frees from dandruff and itch, suppresses inflammation.
Maintains healthy scalp.
Piroctone Olamine
PIROCTONE OLAMINE

Interferes with the reproduction of the harmful germs on the scalp with sterilizing activity, and prevents itch and dandruff.
(OTHER INGREDIENTS)
DISODIUM EDTA, SODIUM CHLORIDE, CITRIC ACID, SODIUM SALICYLATE, BUTYLENE GLYCOL, SODIUM LAURETH SULFATE, MENTHOL, COCAMIDE DEA, TEA-LAURYL SULFATE, LAURYL BETAINE, GLYCOL DISTEARATE, ISODON TRICHOCARPUS EXTRACT, SOPHORA ANGUSTIFOLIA ROOT EXTRACT, PEG-75 LANOLIN, CI 19140, CI 42053, FRAGRANCE, WATER