SHAMPOO&CONDITIONER
KAMINOMOTO SHAMPOO A
Revive your hair. . . . Scalp and hair root care for the healthy hair growth !!
Hair Shampoo for men and women.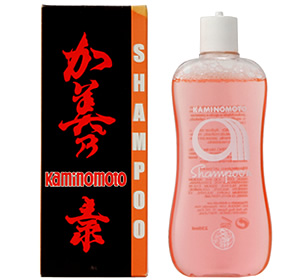 KAMINOMOTO SHAMPOO A
230mL
Keeps healthy scalp and hair,
and improves the effect of hair growers.
Steers elasticity and sheen of hair.
<Directions for use>
1, Wash hair with warm water.
2, Take a proper quantity of the shampoo on your palm, froth it and shampoo your hair and scalp with the foam.
3, Shampoo like massage scalp with fingertips.
4, Wash it out with adequate amount of water.
It is the important point.
When you use a lot of shampoo, it orvertakes seubm and may be the origin of dry scalp or dandruff. Use proper quantity of shampoo.
Ingredients
CITRIC ACID, BHT, SODIUM DEHYDROACETATE, ETHYLPARABEN, OLETH‐5, SODIUM C12‐15 PARETH SULFATE,
COCAMIDE, SODIUM LAURYL SULFATE, CI 47005(YELLOW 10), CI 45170(Basic Violet 10), FRAGRANCE, WATER