Hair Manucure
COLOR AGAIN (B)(DB)(NB)(RB)(YB)
Quick and easy hair manicure for gray hair
New gel type Hair Manicure for gray hair.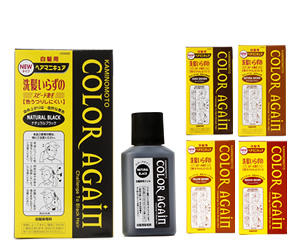 COLOR AGAIN (B)(DB)(NB)(RB)(YB)
80mL
■Hair manicure for gray hair. Colors gray hair easily and quickly.
■No need for washing after the use.
■Useuful for the both whole and partial coloring.
■Coloring ingredients stick and penetrate into the hair, and strains cuticle to smooth the surface of hair, and acid ingredients are kind to hair that will not damage your hair and colrs your hair beautifuly.
※There are 5 variety of colors: Natural Black (B), Dark Brown (DB), Natural Brown (NB), Reddish Brown (RB), Yellow Brown (YB).
<Directions for use>

① Put a proper amount of the gel on the brush and comb from the part which has a lot of gray hair to the whole hair.
・Combing with the brush for whole hair and apply well until your hair wet enough.
② Moreover, please brush your hair well for about 5 minutes from backward and forward with the brush for whole hair.
・Please use mini comb when you brush hairline and particular parts.
・Please pay attention to do not put the gel on your skin.
③ After application, dry your hair natulally or about 5minutes later, dry with a hair drier.
④ Finally, please brush lightly and arrange your hair.  
Ingredients
CITRIC ACID, GLYCERIN, BENZYL ALCOHOL, XANTHAN GUM, Acid Black 1 (CI 20470), Acid Violet 43 (CI 60730), Acid Orange 7 (CI 15510), ALCOHOL DENAT.