Hair Nutrients
KAMINOMOTO A
Revive your hair. . . . Scalp and hair root care for the healthy hair growth !!
Hair Nutrient for men and women.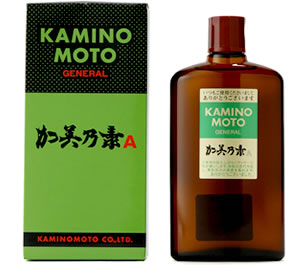 KAMINOMOTO A
200mL
Hair nutrient for daily hair care. Well balanced ingredients activate the function of scalp and hair root, restrain dandruff, itch and falling hair, and make your hair healthier and stronger. Not sticky. Not oily. Smooth sensation.
<Directions for use>
・Sprinkle a generous amount of KAMINOMOTO A onto the scalp twice a day. Massage gently with fingertips to work in the solution. Treatment should be applied more generously before bedtime to work with scalp's natural nourishing properties while you sleep.
・Generally 1 to 1.5 bottles a month is standard usage rate.
・Applying an appropriate amount regularly over a long time is more effective than applying a large amount at once.
Ingredients
INCI
Functions
CS-Base
SODIUM SUCCINATE
SODIUM FUMARATE
Encourages cell functions of scalp and hair root.
Kamigen E
ISODON TRICHOCAPRUS EXTRACT
Accelerates hair growth by encouraging cell functions of scalp and hair root, and activating blood circulation.
Isopropylmethylphenol
O-CYMEN-5-OL
Interferes with the reproduction of the harmful germs on the scalp with sterilizing activity, and prevents itch and dandruff.
D-Pantothenyl Alcohol
PANTHENOL
Prevents dermatitis and falling hair, and promotes hair regrowth by working on the metabolism of the skin.
Pyridoxine Hydrochloride
PYRIDOXINE HCl
Prevents dandruff, and reduces excessive sebum.
Salicylic Acid
SALICYLIC ACID
Removes dandruff by Keratine softening and dissolving function.
Prevents dandruff and itch, which are caused by increasing of harmful germs, by anti-septic function.
Dipotassium Glycyrrhizinate
DIPOTASSIUM GLYCYRRHIZATE
Frees from dandruff and itch. Suppresses inflammation, and maintains healty scalp. Restrains the activity of hormone that regards the growth of hairs at the root of the hair. (Restaint of 5α-reductase)
Water Soluble Hinokitiol
HINOKITIOL
Encourages cell functions of scalp and hair root.
Anti-septic function frees from dandruff and itch.
DL-α-Tocopheryl Acetate
TOCOPHERYL ACETATE
Accelerates blood circulation of scalp and hair root by expanding peripheral blood vessels.
(OTHER INGREDIENTS)
BUTYLENE GLYCO, ALCOHOL, FRAGRANCE, WATER