SHAMPOO&CONDITIONER
KAMINOMOTO MILD SHAMPOO
Scalp care for the healthy hair growth !!
The basis of hair care for you.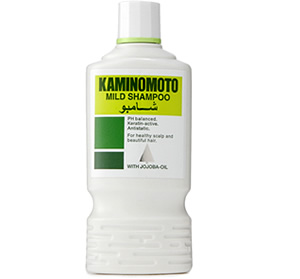 KAMINOMOTO MILD SHAMPOO
200mL
A feeling of use is mild. Keeps healthy scalp and hair,
and improves the effect of hair growers.
Steers elasticity and sheen of hair.
Harbal green Fragrance.
<Directions for use>
1, Wash hair with warm water.
2, Take the proper quantity of the shampoo on your hand, froth it and shampoo with the foam.
3, Shampoo like massage scalp with fingertips.
4, Wash it out with adequate amount of water. It is the important point.
When you use a lot of shampoo, it orvertakes seubm and may be the origin of dry scalp or dandruff. Use proper quantity of shampoo.
Wash your scalp and remove dirt of pores with KAMINOMOTO MILD SHAMPOO.
Ingredients
INCI
Functions
Sodium Chloride
SODIUM CHLORIDE
Thicken agent for product.
Propylene Glycol
PROPYLENE GLYCOL
Gives moisture to hair and scalp.
Sodium Laureth Sulfate
SODIUM LAURETH SULFATE
Foaming agent. It washes out dust and germs.
Cocamide DEA
COCAMIDE DEA
Thicken agent for stability, and washes out dust and germs and cleans scalp.
Glycol Distearate
GLYCOL DISTEARATE
Opacity agent for product.
Trichlosan
TRICHLOSAN
Preservative for product.
Polyquaternium-10
POLYQUATERNIUM-10
Easy to attach to hair and give flexibility.
Prevents static electricity, and attaching dust.

Simmondsia Chinensis Seed

Oil (Jojoba oil)

SIMMONDSIA CHINENSIS (JOJOBA) SEED OIL
Gives moisture, prevents dandruff and promotes hair growth.