Hair Manucure
KAMIKRONE
Coloring by light, coloring by Hair Manicure.
New・gel type Hair Manicure for gray hair
It colors strongly and keeps color for gray hair. "KAMIKRONE" includes 2 kinds of coloring ingredients (Hair Manicure and coloring by light). "KAMIKRONE" is more kind for your hair; a good showing after coloring and coloring wears well definitely.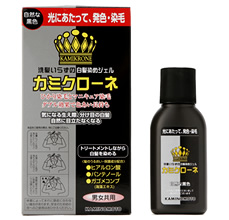 KAMIKRONE(B)
Natural black
80ml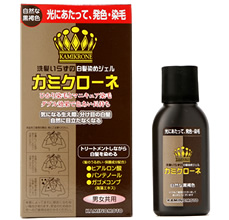 KAMIKRONE(DB)
Natural dark brown
80ml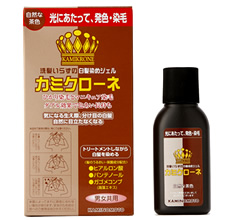 KAMIKRONE(NB)
Natural brown
80ml
Affix: Brush (for whole), cape, gloves for coloring and mini comb (for hairline and particulars)
| Ingredients | INCH | Functions | Purpose |
| --- | --- | --- | --- |
| Sodium Hyaluronic | HYALURONIC ACID | Gives moisture. | Moisture and Hair protection. |
| D-Pantohenyl Alcohol | PANTHENOL | Repair of damaged hair. | Hair protection. |
| Seaweed Extract | Seaweed Extract | Gives moisture and Coating | Moisture and Hair protection. |
Other ingredients
Purified Water, Ethanol, Benzyl Alcohol, Glycerin, Citric Acid, Polyacrylamide, Hydrogenated Polyisobutene, Laureth-7(Polyoxyethylene Laurylether), Silver Sulfate, Eucalyptus Globulus Leaf Oil, Sulfur, Acid Black 1 (CI20470), Acid Violet 43 (CI60730), Acid Orange 7 (CI15510)
<Directions for use>
①Put a proper amount of the gel on the brush and comb from the part which has a lot of gray hair to the whole hair.
・Combing with the brush for whole hair and apply well until your hair almost wet.
②Moreover, please brush your hair well for about 5minutes from backward and forward with the brush for whole hair.
・Please use mini comb when you brushing hairline and particular parts.
・Please pay attention to do not put the gel on your skin.
③After application, dry your hair natulally or about 5 minutes later, dry with a hair drier.
④Finally, please brush lightly and arrange your hair.
・Do not need to wash it away.
・Sensitized tint ingredient(Silver ion) appears color by sunlight and fluorescent light, so dye hairline and parts beautifully.
※The required time about coloring by light
・The direct rays of the sun(Outdoors)→20~30minutes
・Cloudy(Outdoors)→about 1hour
・The rays from window(Indoors)→2~3hours
・The rays from the fluorescent light(Indoors which the sunlight never reaches)→at least 8hours